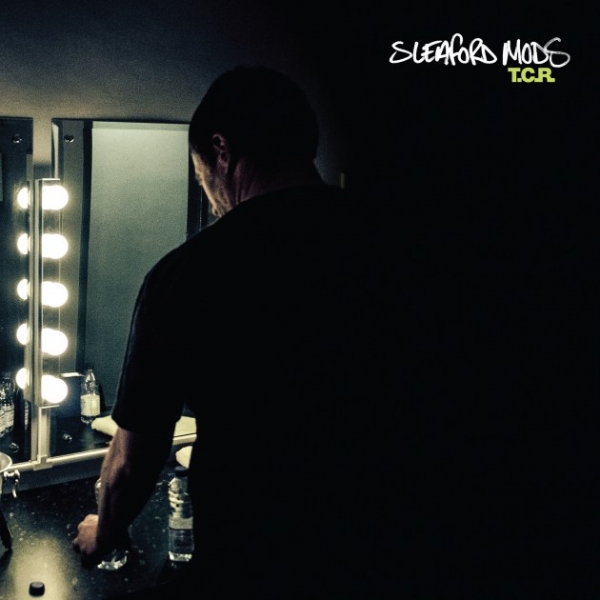 Sleaford Mods - T.C.R
.
Rough Trade. CD/12" EP/DL
Sleaford Mods - Live at SO36
Harbinger USA 001. LP
Sleaford Mods - S.P.E.C.T.R.E
No label. CD.
Sleaford Mods - The Mekon
No label. CD.
I nearly didn't bother getting T.C.R. A five track e.p. on their new label Mister Rough Trade. Bye bye Harbinger Sound hello Rough Trade. Five tracks? Whats the matter? Not enough material for an LP then? Muse left behind in a pub in Notts. Can't write about the shitty job no more cos he ain't got one and the stuffs bound to be watered down what with Geoff Travis running a beady eye over proceedings.
I went to see them twice last week. Leeds and Liverpool with the Scousers being by far the more voluble probably with it being a Friday, parabolas of beer carving the air as the dregs of plastic pint pots splattered the backs and heads of those who dared to creep forward to see what trainers Jason was wearing. I stood back, as a gentleman of my years should, in awe and with a big stupid grin on my face. It'd been over a year since I'd seen them last but they still had it. No, they had even more of it. Whatever 'it' is. That indefinable essence that makes a band what it is: the gestures, the lyrics, the beats, the sleeve art, the tats and the coughs and rasps, the wanking gestures, the constant ear cuffs, the head wobbles, the screams into the mic and the little walks between songs, a small circle where we end up back in front of the mic and heres a new one 'BHS' with which they end the set. They should put Phillip Green [minus his 'sir' thank you very much] on the next album cover because there's no Tory voters in here tonight. Highly unlikely that we'll get a Tory leader picking Jobseeker as one of their eight on Desert Island Discs now is it? I was singing TCR for a week after Liverpool.
Somewhere, something clicked and in the last couple of years two blokes with a lap top no longer means half a Kraftwerk gig. Instead there's an hours worth of killer tunes and a sweaty Jason Williamson barking and burping and ner ner-ing his way through the new ep and an increasing number of crowd pleasers. On this particular shortish tour they finish up with the triple hit of Jobseeker, Tied up in Notts and Tweet, Tweet, Tweet. Fearn sucks on a beer for the last time before shutting his laptop while Williamson goes to change his sweat soaked t-shirt. Last time I saw them they were chipping out with the slow beat of Tarantula Deadly Cargo, a personal favourite, someone said it was about unwanted smells on the tour bus but it could be about economic migrants, I could be wrong on both parts but such are their riches now it doesn't even make the set. Neither does 'I'm Shit At It' which has become something of a works anthem down the old baked bean factory.
Forgive me my presumptuousness but I thought the bubble would have popped by now. I like being wrong here though. It gives me great pleasure to announce that the bubble is still very much intact and that the duo of Fearn and Williamson have now furnished upon the surface of the earth more songs of note that, after first hearing Austerity Dogs a few years back, I could have ever hoped for. The pair are supping from a deep well and if their muse is fleeting then so be it but lets not beat about the proverbial here because they have already done more for my own, and no doubt plenty of others personal well being, than any band in the last thirty years. For all I know they may be shitting this stuff out in their sleep but I very much doubt it. Williamson's lyrics are deep, comical, obnoxious, daft, clever, topical and his delivery is that of a drunk on the bus with a voice designed to be noticed. Fearns beats are simplistic dance Martin Rev minimalist funk punk drilled into your skull where they make some kind of connection with your feet and your knees and then your shoulders start going and before you know it your gurning along like a good un.
Listening to the old stuff on Live at SO36, as recorded in Berlin in June 2015, I still get a tingle up the trouser leg at the intro to No One's Bothered or when you think Jason's going to lose it on Fizzy. The intro to Routine Dean contains a rant about health and safety in the workplace which must have had some of the Germans in the audience completely baffled or maybe they were still picking each other up off the floor after Fizzy. Similar when Jase has a pop at someone smoking stage front 'I'm not fucking Roy Castle'. Who the fuck is Roy Castle goes a room full of Germans. 'Thank you very much, keep the money rolling in'.
'Its all so fucking boring'
'I woke up with shit in my sock outside the Polish off license'.
Live albums come and go, contractual fillers, something to tide the fans over while the real work goes on behind the scenes. And a live album seemed inevitable with Harbinger Sound no doubt now under some kind of Rough Trade fatwa. A new label and hence a live album. It was all worth it fellas. Added cheering and ad-libs do it for me. Now all you need to do is pour beer over your head and barge the missus off the settee for that Sleaford Mod gig atmos.
The new stuff took a while to impregnate my somewhat reticent skull but now when I hear the tinny beat intro to TCR I know its good. TCR is Total Control Racing, a kids track racing kit from the 70's, Scalextric's sworn enemy and a bloke whose life is going round in circles and he goes down the pub to have a good time only to realise the pub is shit and he's going nowhere their either. It could be autobiographical. I don't really know. So you write this dark song about existentialism and you put a jaunty beat to it and a promo video of you both playing racing cars. Excuse me while I go and sit down a while. 'You're a Notts Head' presumably taking the piss out of the locals and no doubt getting played tonight at Rock City. 'I Can Tell' with its faltering chorus. The rest is decent too. Deece if you like.
Of interest to those that made it to the gigs [and Sleaford Mod's fans in general obvs] are a couple of pre Fearn releases that for obvious copyright reasons will never be commercially available [although some of that early work made a brief appearance on the now much sought after double album 'Retweeted']. This is down to every song being built around loops nicked from the work of other artists hence Jobseeker has the intro to the Yardbirds 'For Your Love' running its length, The Mekon is built around the intro to the Pistols 'Pretty Vacant' and I've no idea what loop High Noon uses but its the only Sleaford Mods track I've heard that has Williamson actually singing in a way that Steve Wright in the Afternoon might recognise. You also get to hear Williamson giving a rendition of 'The Stripper' on 'Trixie' but what these two releases really are is Williamson half way there. It took a chance meeting with Andrew Fearn to get to where we are on TCR. I'm glad I bought it. I'm glad I went to the gigs. I'm glad Geoff Travis didn't pull it for the swearing, instead he gave it a big rubber stamp seal of approval and released it in to the world so that we could all enjoy it. See you at the back behind the mixing desk.
Rough Trade
Harbinger Sound