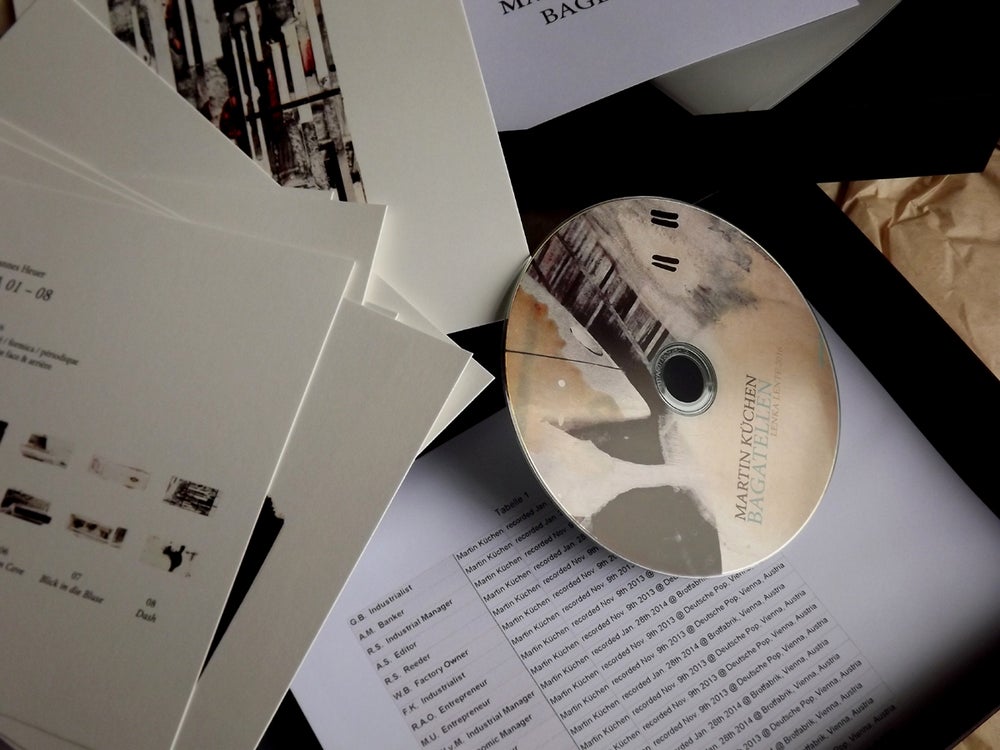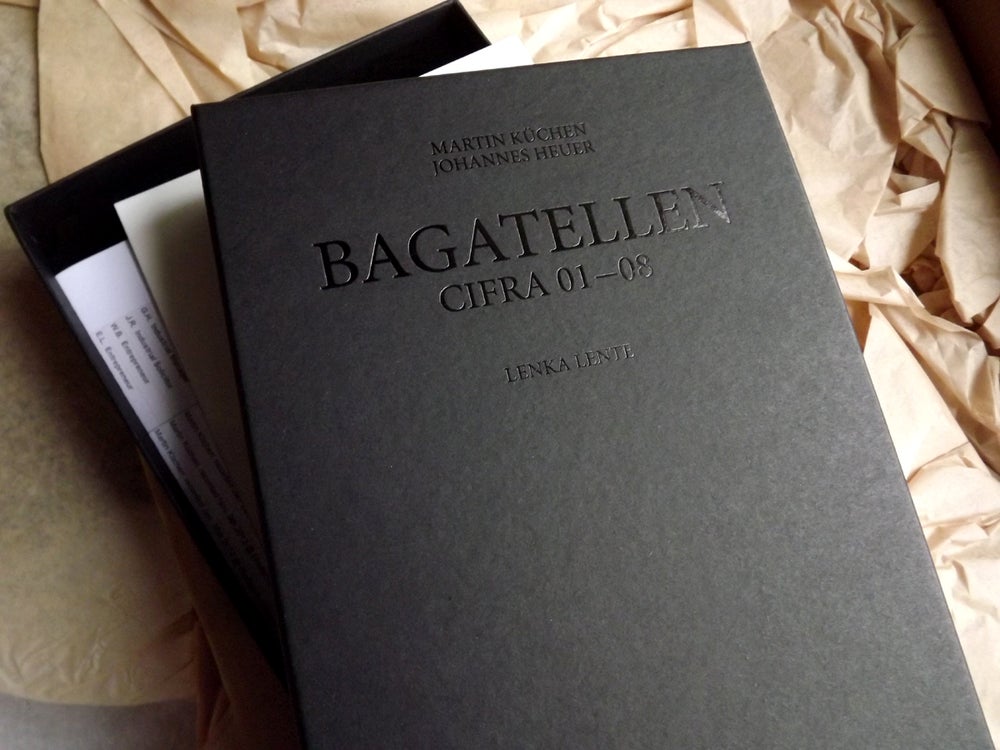 Bagatellen de Martin Küchen/CIFRA 01 - 08 de Johannes Heue
r
Lenka Lente. LKL - EB3
CD in debossed box w/ five sheets of poetry by Martin Küchen + eight visual objects by Johannes Heuer.
50 copies.€25
Lenka Lente are the French publishing house with a penchant for poetry, philosophy, jazz and Nurse With Wound. Their little books of poetry, philosophy and short stories are sometimes accompanied with 3" CD's that contain the sounds of Bill Nace and Nurse With Wound. I think Lenak Lente are big Nurse With Wound fans and have of late branched out into Andrew Liles territory. Those Nurse With Wound tentacles are still spreading. These small and delightful books are avenues of discovery where Italian anarchists rub shoulders with obscure Portuguese sound poets, outsider artists, Moondog and William Wordsworth.
The Portuguese sound poet was Alberto Costa Monteiro. His 'Anima' release for Lenka Lente came in an debossed box with 37 individual cards on to which was printed his poetry, words of short syllables in French slaloming their way down the page. It was a thing of beauty and a beguiling to listen boot. And he's not just a poet but that's another story.
As with Monteiro so with Küchen and Heuer except I don't have the full release here just odd bits that Lenka Lente have sent me knowing that such material would cheer my day. And I'm glad they did as I now have two more names to conjure with. One being Martin Küchen, a Swedish sax player with a penchant for improvisation and the other the artist Johannes Heuer. The forty three tracks on Bagatellen each run to around the minute mark all of them having track titles like 'M.U. Entrepreneur' and 'O.H. Factory Owner' which make me think we may have some kind of concept album here. But aren't concepts just ideas anyway? Joseph Beuys would know. Küchen plays his sax in conjunction with a radio and an electric toothbrush and appears to be taking has sax apart and putting it back together again while eating a fish supper, a creative act I've applauded ever since I saw Alan Tomlinson do something similar with a trombone in the upstairs room of The Adelphi. This makes it sound like Küchen's sax is actually a Henry vacuum cleaner or a distant train or fourty one other sounds that you'd probably not think were emanating from the end of a saxophone. Track sixteen [L.J. Entrepreneur] is a matchbox full of needles being shaken about, track thirty five [picked at random and running to twenty three seconds natch] is Küchen blowing down a reed free sax and taking deep breaths in between, track thirty nine has bird whistles, the track that follows it sounds like Küchen giving up his last breath.
The word 'bagatelle' can be translated as 'a frothy or light piece of music', not something you'd normally associate with improv but it does exist and this is further proof. I saw Steve Beresford the other week, I've seen Alan Tomlinson they both prove improv doesn't have to be hard work. Küchen does the same. Don't ask me about his poetry though as it's all in Swedish.
Johannes Heuer is an Austrian artist. That's all I know.
This combining of the arts in Lenka Lente releases continues to be a rewarding one. Long may they continue.
http://www.lenkalente.com
http://www.lenkalente.com/