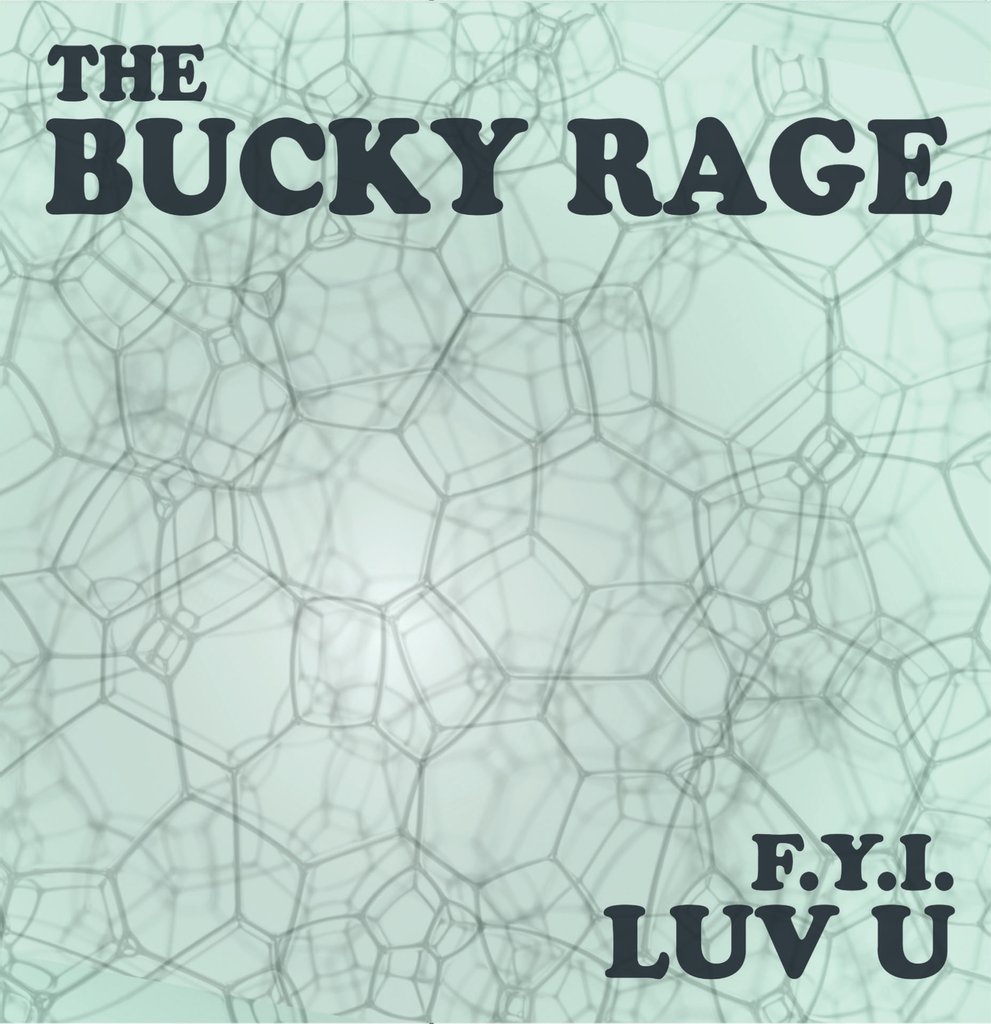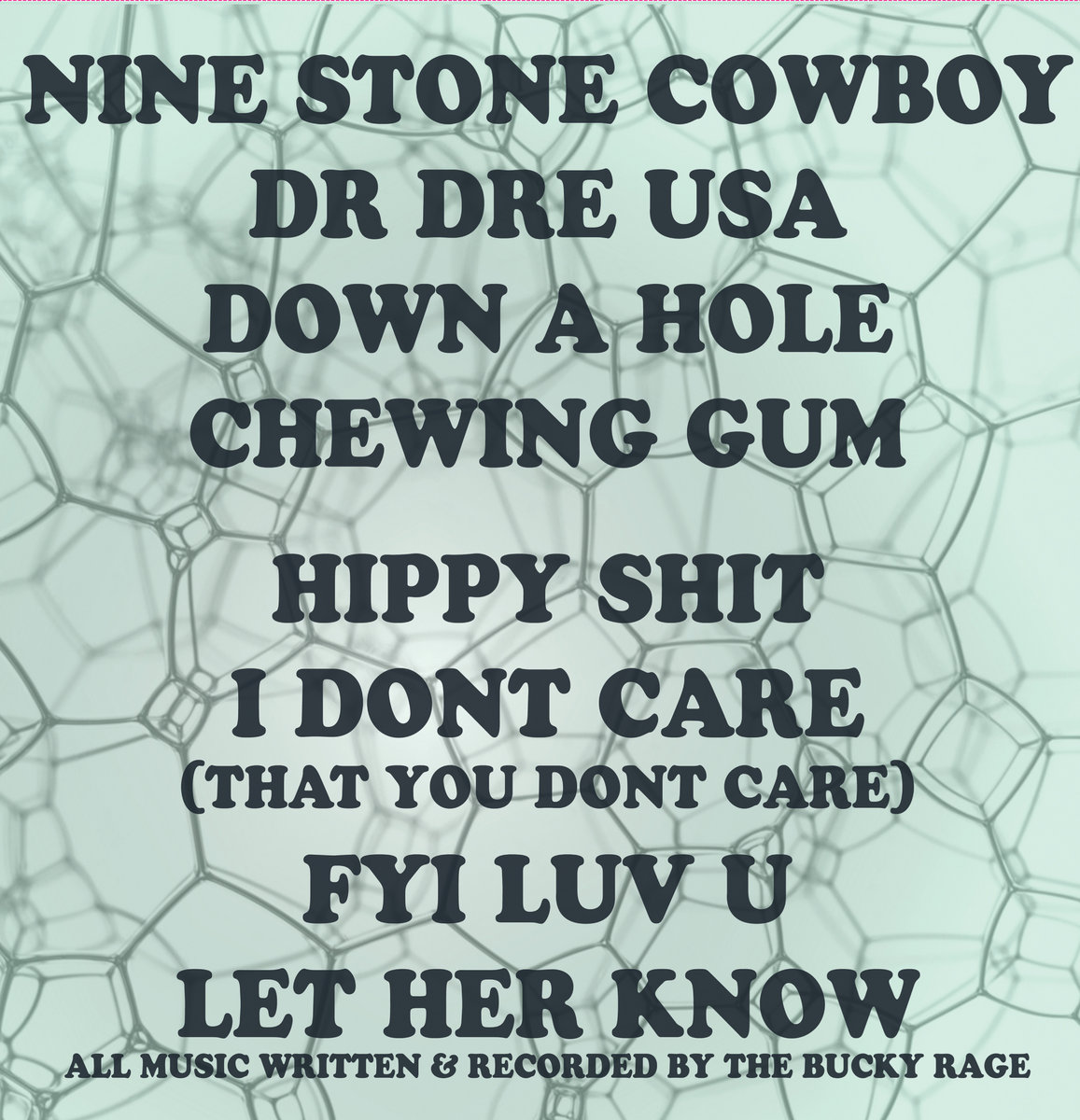 The Bucky Rage - F.Y.I. LUV U
Handsome Records/Northern Cowboy Records. LP/DL
For reasons that will never become clear it follows that after every Sleaford Mods review I post there follows a slew of emails from singer/songwriters eager for me to mull over their most earnest of outpourings. Not just any singer/songwriters though, these singer/songwriters originate almost exclusively from Brooklyn. In fact I get so many emails from Brooklyn based singer/songwriters that I've coined 'Brooklyn' as a collective noun describing a group of singer/songwriters from Brooklyn. There must be hundreds.
After posting the review for the last Sleaford Mods album the Brooklyn's were, for once, non existent. Maybe my policy of all but ignoring them was finally paying dividends. Instead I got a full frontal assault from a group from Glasgow going by the name of Bucky Rage. Said full frontal assault came not in the shape of an email containing numerous links and biographical info but a direct Tweet saying something along the lines of 'can we send you our latest LP? And in the meantime here's a link to our Bancamp page'.
Well, it was late into Saturday evening, wine had been drunk and I was at the stage where focusing on anything much was becoming a chore so against my better judgement I clicked on the link and was faced with a close up of what looked like the bubbles at the top of a glass of fizzy lager. Not a good start. To make matters worse there was the album title. Twitter type message acronyms have a place but I don't reckon that on the cover of your latest LP is one of them. And the Bucky Rage? A nod to Scotland's favourite get smashed tipple? Yeesh. So far so bad. But like I said, I'd been drinking. So I clicked.
What happened next was nothing short of remarkable. With the Ceramic Hobs going the way of all flesh and the Country Teasers seemingly in some kind of semi/permanent dark nihilist stasis I'd given up all hope of ever coming across another UK guitar band worthy of my time. But lo. Despite my initial reservations I found the Bucky Rage to be nothing less than the freshest of Alpine fresh air. Here comes first track 'Nine Stone Cowboy' [ho ho ho] and a stomping guitar riff/bullhorn vocal that with my eyes tight shut could've been my treasured Country Teasers and there's a theremin and a spazzed out synth locking horns, making the kind of mong racket not seen or heard since Neil Young and Devo hooked up for the totally destroyed version of Hey Hey My My. Then along comes 'Dr Dre USA' with its shout along vocal harmonies and 'Down a Hole' with its shambling cymbal ride slack riff leaving the bass plugging away. Maybe it was the wine?
Before I knew it I'd listened to all eight tracks and was now on Youtube checking out the video action and here they all were in Mexican wrestling masks and 60's shape guitars and military hard hats and skin masks and bent hats buggering about on the shore of a loch. If I didn't know any better I'd have said that these four Glaswegians were actually having some all out FUN. Y'know that stuff? That stuff you used to have with guitar music before it all went Indie and anthemic and inward looking and ginger haired and Radio 2 friendly. Fun stuff. A fun ride. Iggy and mashed up 60's beat music. Here we are again.
I started ticking off the influences in my head; after the Hobs and the Teasers I was getting Milovan Srdenovic, [a clear and direct link to that warbling vibrato Mexican wrestling mask clad son of Quim], Lightning Beat-Man [more wrestling masks], Makakarooma, Question Mark and the Mysterians, Suicide. Then came the five minute ur-thump of Chewing Gum, the aural equivalent of having your arse booted down Sauchiehall street on Saturday night, its glorious thud and deadened vocal the heart beat pulse of the entire LP.
But where the record? There was no record. After a flurry of DM's the trail went dead and that I thought was that. Until a week later and an apology and talk of car crashes and illness. Then it arrived and when it did I discovered that its eight tracks play at 45 and that F.Y.I. I LUV U is actually a bloody good love song and that all of this sounds a 100% better coming out of the grooves of a record and not the back of a Mac; heavy bass, fucked up synth, vocodered vocals, thump, thump thump, harmonies, catchy tunes. I WANT TO SEE THEM LIVE. Music you want to play over and over again because for once there is a guitar band thats not all inward looking, lets corner the Irish market, midday Radio 2 slot, bland, bland, bland, there is a guitar band thats having lots of fun and their name is, whether you like it or not, The Bucky Rage.
Then you discover that they've been around since about 2005 and that they've got several more records to indulge in and that their live stuff goes all over the place, gloriously fucked up. Which leaves me wondering how I never heard of this lot before? It sure beats the Brooklyns.
Bandcamp